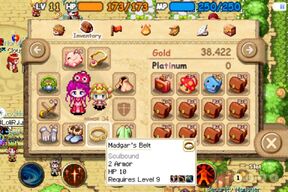 Madgar's Belt
The belt of the mighty Madgar.
Belt
Level Required: 9
Class Required:



All
Armor: 2
Health: 10
Sell Price to Secret Vendors: 12,500

Gold

How to Obtain:
Trade

Leather Craftsmen
Madgar's Buckle (1) and

Cured Leather (5) to obtain

Madgar's Belt.



Notes:

Madgar's Buckle is obtained through

Revenger Siro's Quest.
Community content is available under
CC-BY-SA
unless otherwise noted.